Data Reporting and Certificate Trading Timeline
All NC-RETS Projects can submit generation data and prior period adjustments 2 years prior to the current month.
Data Review Timeline
Generation data will be reported to NC-RETS by a Qualifies Reporting Entity (QRE) or Self-Reported after the end of the vintage month. Check with your QRE for their data reporting timeline.
A Data Validity Check is performed for all data reported and assigned a status on the Account Holder's Generation Activity Log. The Generation Activity Log can be accessed via the Account Holder Reports module for the account dashboard.
NC-RETS will notify the Account Holder via email that the data has been posted.
Current Period Generation can be reviewed, Accepted or Disputed by the Account Holder for 14 days. Once QRE loaded data is accepted by the Account Holder, Certificates will be immediately issued. Self-Reported Data will be set to an Account Holder Accepted status and issued the next day. NC-RETS Accepted data that is not Account Holder accepted or Disputed after 14 days will be used for certificate issuance 15 days after the data was loaded.
Loaded Data can be reviewed from the Asset Management Module's Review Data/Self-Report column. The date displayed in this column is the last vintage loaded.
The Self-Reporting/Facility/Project Output Data Review screen will display all generation reported for the project. The Period Data status in the left-hand column displays the status of all loaded Current Period Generation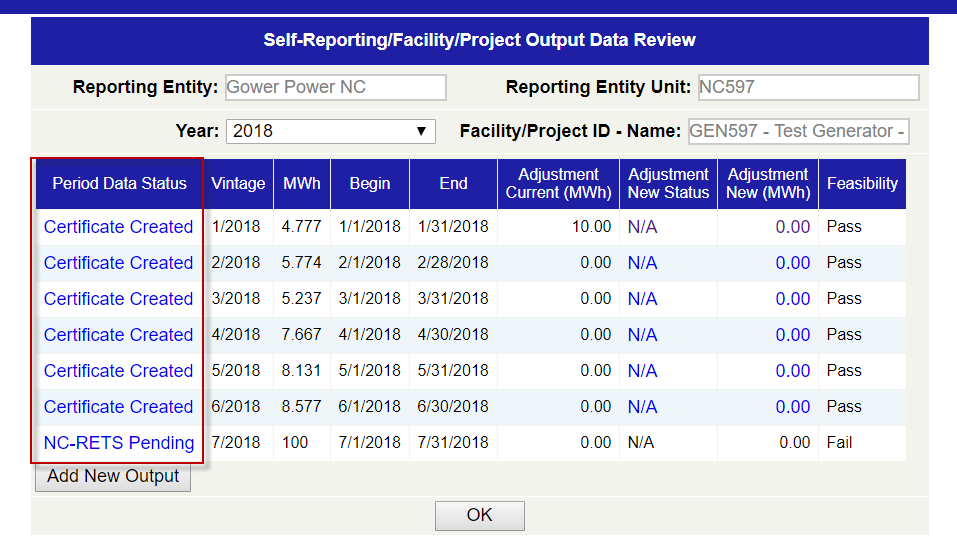 Certificate Created - Generation used for certificate issuance
NC-RETS Accepted - Generation Loaded ready for certificate issuance. If data is not accepted within 14 days, Certificates will be issued automatically on day 15
NC-RETS Pending - Generation Data either Failed Engineering Feasibility that requires administrator review (see more about Feasibility Failure) or Multi-Fuel project that requires fuel allocations to be reported by the Account Holder allocating
Account Holder/Admin Accepted - Self Reported generation accepted by the account holder will be issued the day after being marked in an Account Holder accepted status
Account Holder/Admin Disputed - Generation Data in a disputed status will not contribute to certificate issuance